Log grinding machine RSM-1
Perfectly suited to sand round parts.
Part number: –
Category: woodworking
your profits
The round timber sander RSM has been designed especially for grinding work on round timer (flag poles, palisades, playground equipment, etc.). The long roller conveyor, equipped with idler rollers the adjustable feeding unit transports the part along the sanding unit. The large sanding unit with the flexible grinding shoe facilitates high-end results.
The length of feeding unit and the number of sanding units can be manufactured according to customer requests
| | | |
| --- | --- | --- |
| power: | 3,74 kW | ~ 5 hp |
| belt size: | 150 × 2280 mm | 5,91 x 89,76 inch |
| belt speed: | 22m/sec. | ~ 72 fps |
| reqired space: | depending on roller in- out- take | |
| weight: | ca. 800 kg | ~ 1780 lbs |
| dust collection diameter: | 100 mm | 3,94 inch |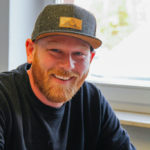 Steffen Lehmann