Edge sanding machine SK-2
Our machine for the bigger workpieces.
Part number: –
Categrory: woodworking
your profits
This edge-sanding machine offers additional one swung rear and two radius sanding places Ø 80 and 300 mm beside the
conventional straight sanding side. Thus a kind of sanding works can be covered. The heavy plain sanding table with suction
trough the table and the pneumatically height adjustable oscillation are thus for security of the user, as well as the great
sanding result and sanding belt extent of utilization.
the 4 working possibilitys on our sk-2
| | | |
| --- | --- | --- |
| power: | 4 kW | ~ 5,5 hp |
| belt speed: | 15 m/s | ~ 49 fps |
| oszillation stroke: | 30 – 150 mm | ~ 1,2 x 5,9 inch |
| belt size | 200 x 3200 mm | 7,87 x 125,98 inch |
| table size: | 2000 × 1000 mm | ~ 79 x 39 inch |
| required space: | 3000 × 1500 mm | ~ 118 x 59 inch |
| dust collection diamter: | 1 × 140 mm | 5,51 inch |
| weight: | ca. 560 kg | ~ 1234 lbs |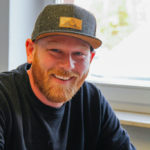 Steffen Lehmann