Edge Sander Junior R1
The allround unit.
Part number: –
Category: woodworking
your profits
The highly robust Junior R1 offers all the features you would expect from a state-of-the-art edge sanding machine.
A solid cast iron sanding unit equipped with a powerful motor ensures maximum sanding performance. The spring-action, height-adjustable work table ensures optimum belt utilisation and safe working.
The machine is already equipped with a belt oscillator, a continuous-swivel unit and an additional table for sanding work on the pulley.
Optionally available: Veneer sanding unit
Stand 2015 – technische Änderungen vorbehalten
| | | |
| --- | --- | --- |
| power: | 2,2 kW | ~ 3 hp |
| belt size: | 150 × 2280 mm | 5,91 x 89,76 inch |
| belt speed: | 22 m/sec. | ~ 72 fps |
| working table size: | 750 × 350 mm | ~ 30 x 14 inch |
| required space: | 1000 × 800 mm | ~ 40 x 32 inch |
| weight: | ab 180 kg | ~ from 400 lbs |
| dust collection diameter: | 100x80 mm | 3,94 x 3,15 inch |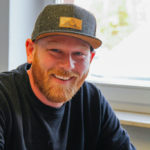 Steffen Lehmann