Belt sanding machine KBA
The profile and edge sanding machine for more efficiency.
Part number: –
Category: woodworking
your profits
He makes working on edges from soilid wood, MDF or other sheet material more easy and efficient for you. It is modular build and can therefor be equipped with the milling-, profile sanding-, edge sanding-, and brushing aggregates you need.
Thanks to the opprtunity of equipping the machine with different tools, the equipment times go down to a minimum.
power feed
The power feed unit runs with a rubber coated chain and an upper pressure bar equipped with rubber rollers. The workpiece will drive along the processing units. The upper milling and sanding aggregates goes up while you adjust the thickness of your material.
| | | |
| --- | --- | --- |
| Power: | 6 kW | ~ 8 hp |
| belt size (edge): | 150 × 2000 mm | 5,9 x 78,74 inch |
| belt size (profile): | 30 × 1960 mm | 1,18 x 77,17 inch |
| dimensions: | 1240 × 3600 mm | ~ 49 x 142 inch |
| feeder speed: | 2-10 m/min./variabel | ~ 6,5 - 32,8 fpm |
| workpiece height: | 10-60 mm or 20-90 mm | ~ 0,4 - 2,3 inch or 0,8 - 3,54 |
| min. workpiece length: | 200 mm | ~ 7,8 inch |
| min. workpiece width: | 40 mm (in feedthrough) | ~ 1,6 inch |
| weight: | ca. 1600 kg | ~ 3500 lbs |
| dust collection diameter: | 1 × 160 mm | 6,3 inch |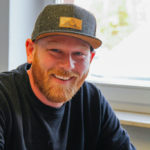 Steffen Lehmann