Edge Sander RS-2010
Our edge sander for every situation.
Part number: –
Category: woodworking
your profits
The model for enhanced user-friendliness. The edge sanding machine RS 2010, which features a diverse range of equipment, performs all edge sanding tasks in the field of woodworking. Thanks to the rapid changeover from freehand sanding to veneer sanding, the belt oscillator and a continuousswivel sanding unit, this is a universal solution for all your finishing needs. The pneumatically heightadjustable working table and pneumatic belt tensioner ensure easy handling.


| | | |
| --- | --- | --- |
| power: | 3 kW | ~ 4 hp |
| belt size: | 200 × 2760 mm | 7,87 x 108,66 inch |
| belt speed. | 22 m/sec. | ~ 72,2 fps |
| working table dimensions: | 450 × 920 mm | ~ 17,7 x 36,2 inch |
| required space: | 1200 × 2000 mm | ~ 47 x 79 inch |
| weight: | 500 kg | ~ 1100 lbs |
| dust collection diameter: | 120 & 80 mm | 4,73 & 3,15 inch |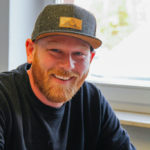 Steffen Lehmann